Learn different and strongest types of Silver Chains
Whether you are looking to buy a gift for someone or treat yourself in the form of silver chains, opting for sterling silver is the best choice you can come down to and a great start to gift someone. You can choose a variety of options like Silver Bracelet chains, Silver Necklace chains, and even silver rings would be undeniably the best choice. Silver chains compliment well on any outfit and stand still in the test of time. Wearing these will make you feel that you are playing the lead role of any party or a remake. They are a little expensive too. Fine, thin & light, thick & heavy, Bold or subtle, Sparkling or Muted, Intricate vs Simple, all these are the range of styles you can find in Silver Chains.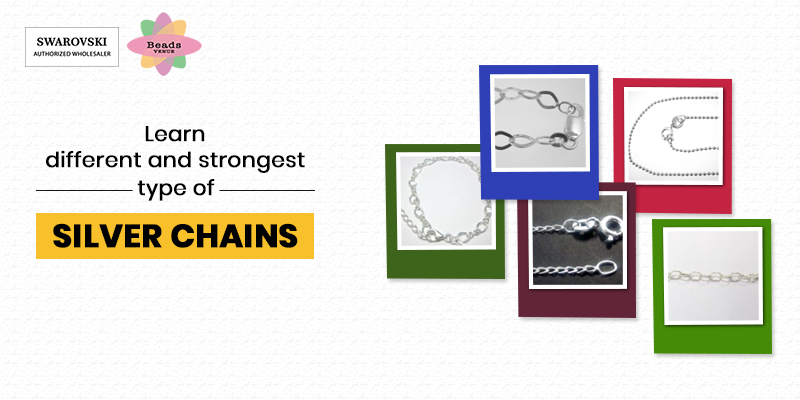 Before buying a sterling silver finding, make sure it is reliable and sturdy to support the pieces like the pendants, locket, etc.
Which silver style is the strongest?
SPIGA/ Wheat Chain: This is one of the classics, a jeweler's favorite. A reliable chain to buy and a good reason to buy is its structure. The simple design is too bland and so the individual structure of the line is thick and solid which has been twisted into an 8-shape figure to pair up with the next link along. This ensures that it is supported in multiple ways and it is structurally supportive too.
Curb Chain: The most recognized and popular style. It has in-built craftsmanship that cannot fall into pieces if pulled; instead, it will stretch in the finer versions of silver chains.
Figaro Chain: This style is similar to Curb Chain. The only difference is the strength of all the links and the pattern is formed of one elongated link followed by 3 normal curb chain links.
Marina Chain: Also known as Anchor chain, this is also similar to the links of the curb chain, slightly more elongated towards the horizontal bar in the center of each link. Ensure that you do not buy a flat style marina chain as the depth is slim and wafer-like.
Ball Bead Chain: A classic shape and highly smooth polished round ball with a mirror finish. The difference between the sterling silver findings and stainless steel is the security of the chain that is closed with solid sterling silver clasp than the links. It may bend out of shape and links may move out, whereas these balls have a strong wire in the center.
Choose any style for your silver necklace chains or bracelet to suit your beautiful outfit and make it look more stunning.